MLRC help

A brief introduction to MLRC
MLRC (Multivariate Linear Regression Combination) is a secondary structure prediction method which combines GOR4, SIMPA96 and SOPMA. It post-processes the outputs of protein secondary structure prediction methods and generates class posterior probability estimates. Experimental results establish that it can increase the recognition rate of methods that provide inhomogeneous scores, even if their individual prediction successes are largely different
Warning : It can take up to 5 minutes to compute MLRC for a sequence (1'11 minute for RBTR_KLEAE (270 aa) and 4'55 minutes for MDR3_HUMAN (1270 aa) ). So, be careful when using it in alignment (the total computing time can't be above 3 hours on NPS@).
NPS@ is the orginal server for this method.

Availability in NPS@
This method is available :

Parameters
No parameter required.

NPS@ MLRC output example
You can see:
MPSA/ANTHEPROT link to view the prediction in these local protein sequence analysis softwares.
The color coded prediction (a sequence line and below the corresponding predicted states).
The sequence length.
The percentage of each secondary element.
Two graphics. The first to better visualize the prediction. In the second, there are the score curves for each predicted state.
Links on the prediction result text file and intermediate result text files.
Links on the intermediate result files to view them in MPSA/ANTHEPROT.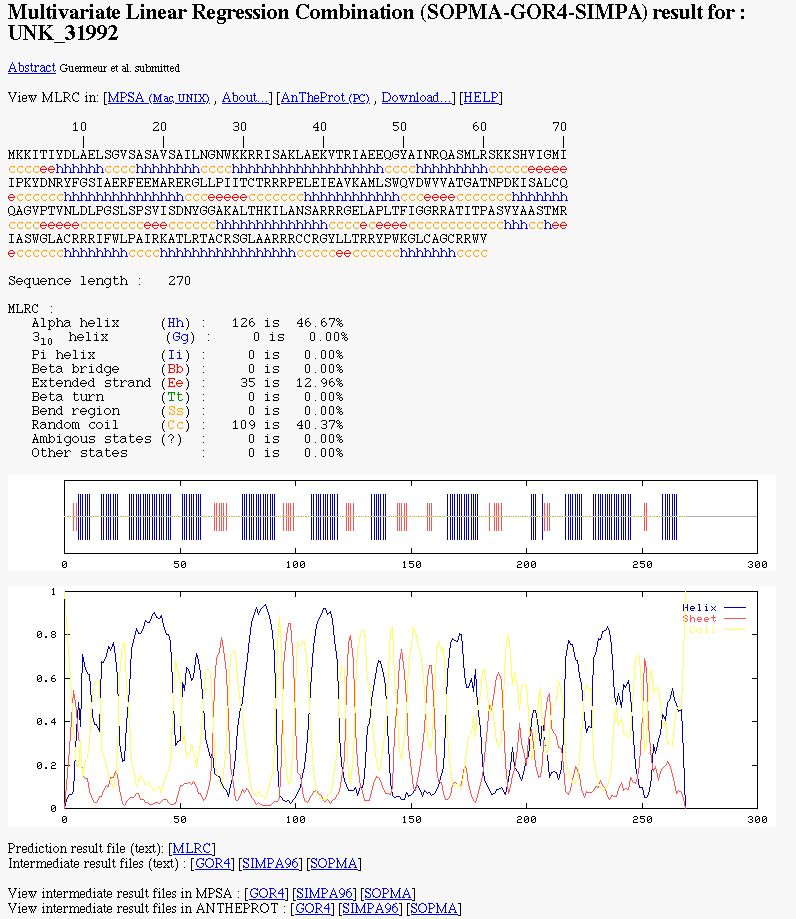 References
---
User : public Last modification time : Mon Mar 15 15:24:37 2021. Current time : Wed Sep 27 04:45:28 2023